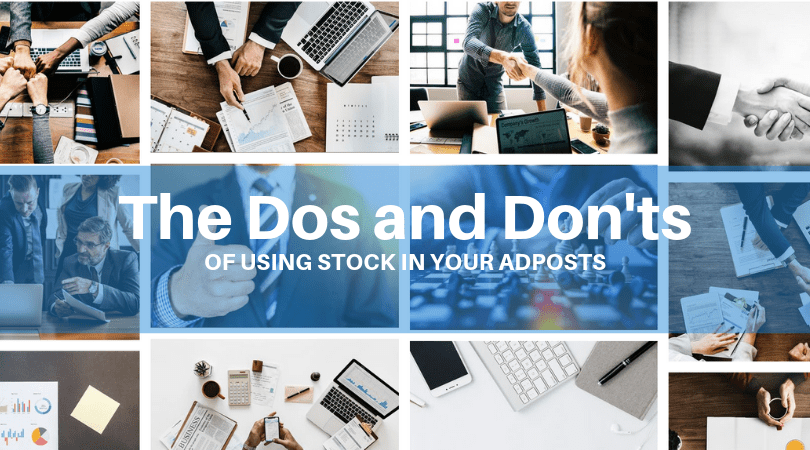 How to use stock photos in ads…
Working in the world of lead generation and Facebook advertising means using a lot of images.
Especially if you're running frequent split-tests and refreshing your creative every two weeks (as you should). 
Facebook Ad Manager provides plenty of images to choose from, including Shutterstock photos to use in your ads. 
But, be warned. Using too many stock photos in ads can actually harm your campaign more than help it.
Stock images are tempting because they look so professional. Problem is, on a platform like Facebook, they can look too slick, too staged and, well, just a tad too perfect. 
With the average user's feed filled with grainy shots of nights out in the club, ultrasounds and rehashed memes, a stock photo can scream ADVERTISEMENT. Facebook users have become so attuned to ads, they'll breeze right past your overly-perfect stock image without stopping to consider your offer. 
To get the clicks your looking for, you need to use natural-looking images or ones that really stand out. 
For those who'd like to use something a bit more "off the wall", websites like Pixabay, Unsplash and Pexels are among the largest archives of free content. 
Although these are magazine-quality images, you'll find a broader range of themes using those three sites than just with Shutterstock. Pexels, Unsplash and Pixabay also have the added advantage of being free to use anywhere.
That could be in emails, ads, funnels, and so on.
Unfortunately, Shutterstock is only free for Facebook ad images. For any further use, you'll have to pay.
Both Pexels and Unsplash have clear and straightforward Terms of Use policies. You can use the images wherever you like, and they won't cost a penny. 
But don't take the mickey.  These photographers are being extremely generous, so reselling these images for direct profit would be a kick in the face.
You'd also be in breach of copyright. If the wronged photographer finds out about your shady dealings, he would be within his rights to sue. 
Pexels and Unsplash Terms Of Use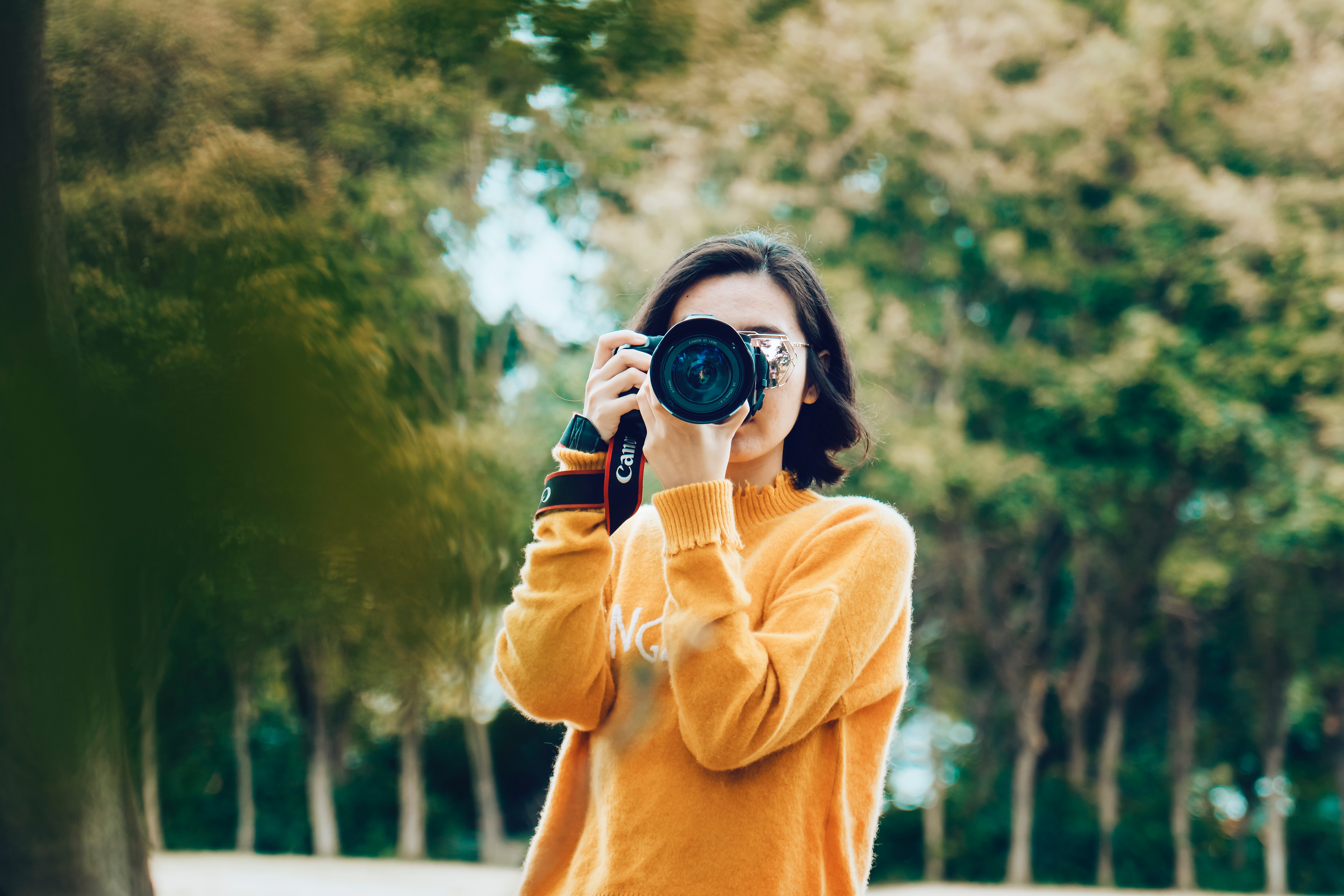 Pexels Terms of Use 
(source: Pexels.com 9th July 2019)
All photos on Pexels are free to use.
Attribution is not required. Giving credit to the photographer or Pexels is not necessary but always appreciated.
You can modify the photos. Be creative and edit the images as you like.
Unsplash 
(source: unsplash.com 9th July 2019)
All photos published on Unsplash can be used for free. You can use them for commercial and non-commercial purposes.
You do not need to ask permission from or provide credit to the photographer or Unsplash, although it is appreciated when possible.
More precisely, Unsplash grants you an irrevocable, nonexclusive, worldwide copyright license to download, copy, modify, distribute, perform, and use photos from Unsplash for free, including for commercial purposes, without permission from or attributing the photographer or Unsplash.
This license does not include the right to compile photos from Unsplash to replicate a similar or competing service.
The Dos and Donts of Stock Photos In Ads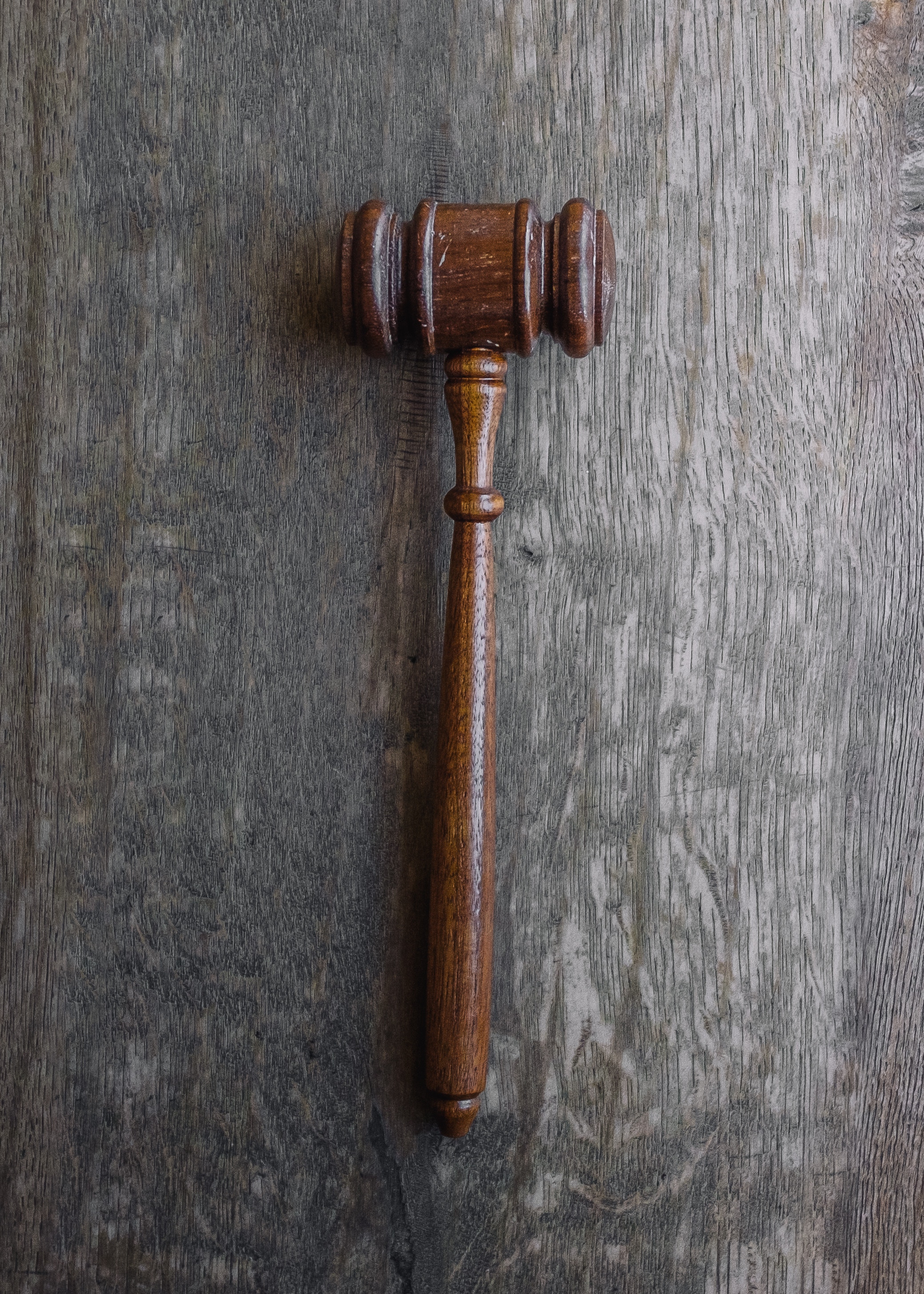 So, now we've delved briefly into Shutterstock, Pexels, Pixabay and Unsplash, let's comb through the Dos and Don'ts of using stock photos in your ads. 
DO 

Use Pixabay, Unsplash or Pexels images for YouTube and blog stills. You can use these images as they come, or you could overlay some text "thumbnail" style. 
NB: If you're using an image with text in an ad, make sure to run it through the Facebook overlay tool. Facebook prefers images with little or no writing, and may not run ads with too many words. 
This may be a good time to say that the overlay tool isn't always 100% accurate. There have been cases where Facebook has mistaken part of an image to be text and penalised the ad creator accordingly.
If you run into issues like these, contact Facebook for more clarification. 
DON'T 

Use the same stock image too much from any website. Though consistency is great, too much of one thing can get old, fast. Use a variety of photos in your ads and funnels. I recommend a blend of stock and natural (homemade) images. 
DO

Use homemade images when you can. For Facebook advertising, blending in with your pictures can actually improve ad reactions more than standing out. 
An original image will look more like an average post from a friend than an unsubtle ad from a faceless corporation. We've had street snapshots, and videos far outstrip studio-shot content in the past.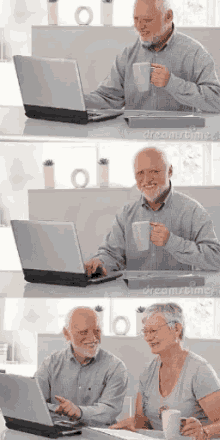 DON'T

Try to use Shutterstock images outside of Facebook. Ad Manager offers free use of these images for advertising, but if you use them elsewhere in your funnel, you'll have to pay. 
If you choose a Shutterstock photo depicting a person (aka, a likeness), make sure the ad can't be deemed offensive. Illness, racism or sex are big no-nos. Bottom line, Facebook won't run your ad, and you'll waste a lot of time editing for approval. 
DO

Split-test images for your ads. Just a stock photo change in your ad can produce staggering different results. 
A great way to split-test cheaply is to use Facebook's "Dynamic Creative". 
The Dynamic Creative automatically tests multiple versions of an ad within a targeting group. With this feature, you can use: 
Text options x 5

Images x 10 or Videos x 10 

Headlines x 5  

Link descriptions x 5 

CTA buttons x 5 
That's 30 assets with 6,250 possible combinations. That said, Facebook highly recommends that you go for quality rather than quantity. It's better to test two or three strong images than 10 of varying quality. 
DON'T

Alienate audiences with unrelatable stock photos in ads. If you're selling debt advice services, a "woman in a bikini" image isn't going to cut it. It's all common sense, really. 
For a more subtle example, let's take an ad I saw last week. The business was selling equity services, and the image was of a beautiful woman speaking into a headset.
While there's nothing wrong with a beautiful woman, and there was a loose association with an office, the image didn't quite fit the tone of the ad. It almost worked, but not quite, and the effect was quite jarring.  
Creative Commons, Attribution, Royalty-Free, Share-Alike. What's the difference?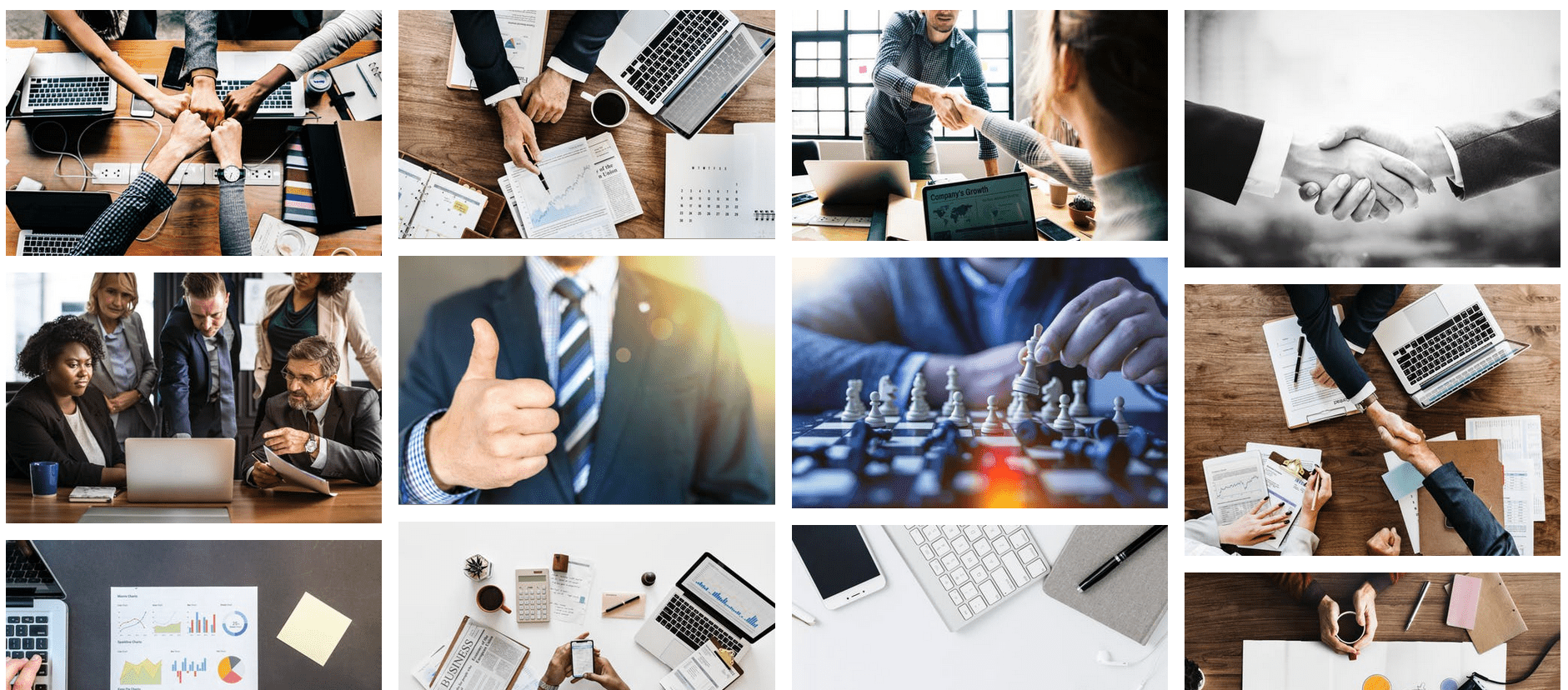 Just a few more tips to round up the end of the post. 
Make sure the content you use states that you're allowed to distribute those images. 
A Creative Commons license allows the free distribution of otherwise copyrighted work. 
Share-Alike is affiliated with Creative Commons. It's a licensing term to describe works that require copies or adaptations to be released under the same or similar license as the original (Wikipedia). 
Attribution means you must attribute the work as specified by the photographer or licensor, but not in a way that suggests they endorse your work. 
Likewise, non-attribution means you don't need to credit the photographer or licensor (but they'd appreciate it if you did!). 
Royalty-free means you can use the image without having to pay royalties or license fees. 
If you've found some content you'd like to use, but you're unsure where you stand, go to the Creative Commons website. They have a full list of the most common type of image licenses: Creative Commons.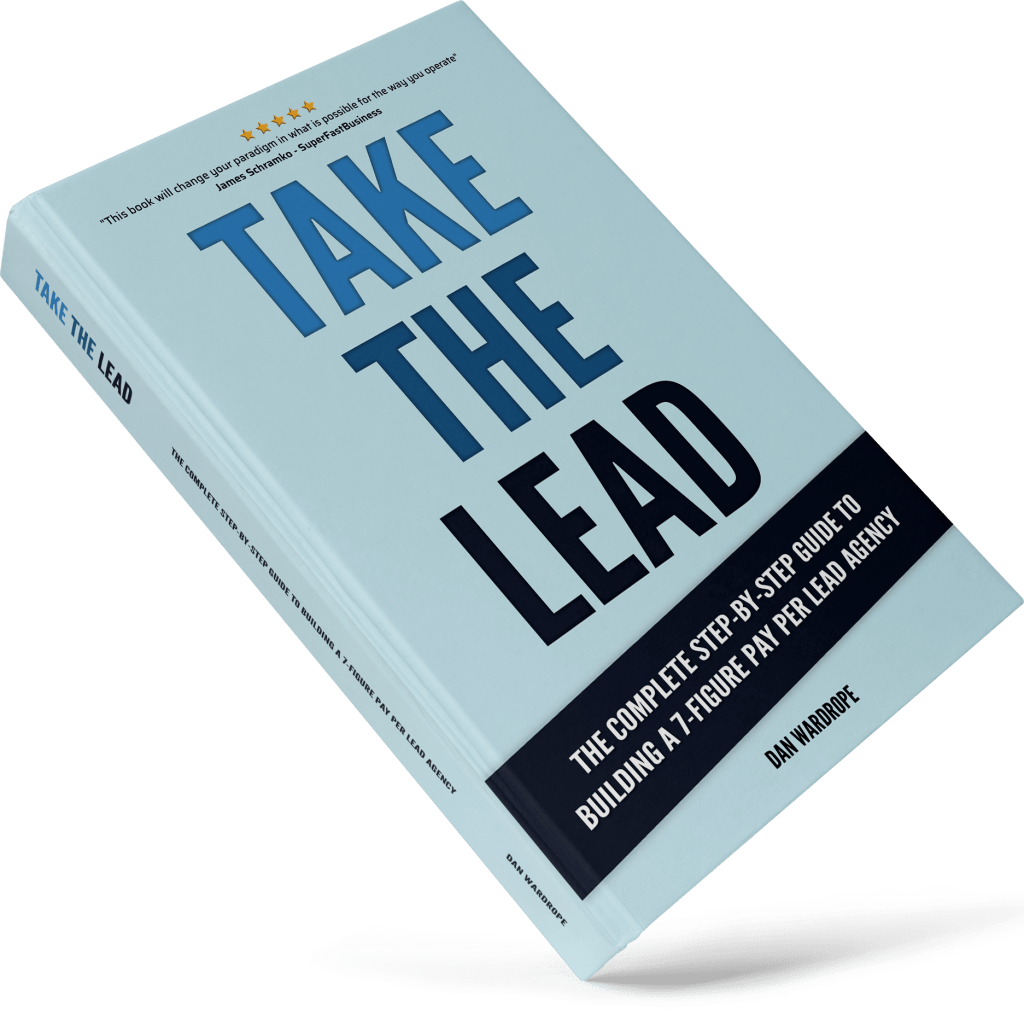 Want to know how to optimise your Facebook ads?
Everything you need to know is in my book.
Take The Lead

"A must-read for any agency owner who wants to learn the most profitable agency model in existence."
Chris Von Wilpert, Content Mavericks