So, you have now started to sell your leads on a Pay Per Lead basis.
You have joined the Pay Per Lead revolution and can generate 50-100+ leads per day. Your business is growing, and you can see that positive changes are happening in your industry. You have a couple of new clients, your funnels are built, and you are ready to switch on your advertising account and start watching that money roll in.
But there's one problem. You're not sure how to deliver all these leads that you are generating to the client.
A good client will usually tell you exactly how they want the leads delivered but, in case they haven't let you know, here are four different ways you can send your leads to them.
(Source: Impact Marketing)
1. Delivering Leads Via Email
Email is a simple way to deliver your leads to your client. At Flexx Digital, we use Unbounce (the drag and drop landing page builder) to create our landing pages for our clients. Unbounce gives us the option to forward our leads onto a particular email address.
But be wary if you are only using the email method to deliver your leads. If a client asks you to deliver leads solely via email, this typically means that the client doesn't have a well-built follow-up system in place. 
It also means that they probably don't have text message marketing or a good sales team. More likely than not, they're not capable of working the leads correctly. 
To be fair, if you're just starting out and your client is just starting out as well, this could be an excellent opportunity for both of you to grow together. 
Just keep in mind that if your client doesn't improve with you, it may be time to part ways and go in a different direction. You need to find clients that are capable of handling large quantities of prime leads. To do so, they'll need a solid system in place where they can properly follow up on the leads you deliver. 
2. Delivering Leads Via Google Sheets and Zapier
Sometimes, the client might ask for you to deliver leads via Google Sheets and 'zap' them over to their CRM system.
For this method, we use a system called Zapier. This simple automation tool can help save you time that you would otherwise waste on manual data entry with leads, leaving you plenty of time to work on other parts of your funnel.
3. Delivering Leads Via Webhooks and API Integration
Another way of delivering your leads is to integrate webhooks and API into your landing pages.
By integrating webhooks, you can send the leads immediately into the client's Data Relationship Manager (CRM).
As soon as you hit the "submit" button on the client's landing page, the lead is fired off into the clients CRM in real-time, which initiates the follow-up sequence.
The follow-up sequence could be in the form of a follow-up email from the company, a phone call, or a text message.
This is a simple system because as soon as you deliver the leads, the client takes over. You don't need to do anything more.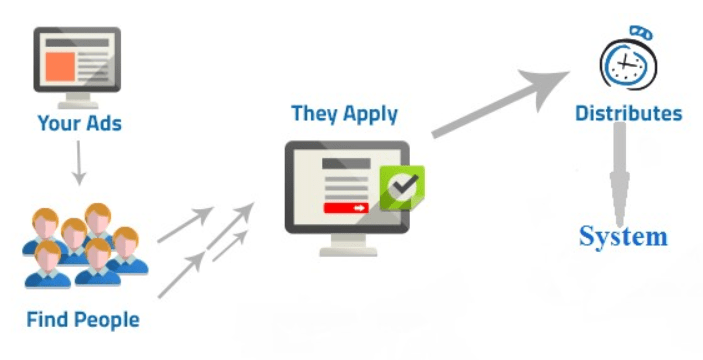 (Source: Voiptime)
4. Delivering Leads Via Lead Distribution Software
When your business is a little more advanced, lead distribution software can make delivering leads easier.
We use a software called CAKE. CAKE works by integrating into a client landing page. Once the prospect clicks the "submit" button on a client's landing page, it automatically fires into CAKE.
This system processes all the information that the candidate has filed out on the landing page, and CAKE automatically filters the leads based on their answers. This enables you to segment the leads to different clients in the same vertical.
This is a powerful distribution system that allows you to deliver segmented leads to clients precisely the way they want.
Conclusion
If you're just starting out in lead generation, then you need to do whatever you can to start getting experience. First focus on getting some money through the door – but, as you can see, delivering leads doesn't have to be a hassle.
Once you become more advanced, you want to target clients that can handle 50-100 leads a day and have a more advanced follow-up system in place for processing the leads.
Once you're working with the huge clients, delivering thousands of leads a week can become a struggle. At this point, I recommend using lead distribution software. Lead delivery will be easier and the leads will be of a higher quality. Plus, you can truly make the most of every prospect that comes through your funnel.
Free Training 
Flexx Digital is a PPC agency that uses the Pay Per Lead model – no retainer contracts. 
If you want to find out more about this Pay Per Lead model, and how we run the business, check out my free case study.
Inside you'll find how I:
Severed ties with retainer contracts once and for all

Moved away from local businesses

Started working with national B2C companies

Land high-ticket clients

Found the verticals we work in

Consistently generate leads of the highest quality
Click below to watch it now: