Micro Niches…
If you're trying to do PPC marketing in a competitive industry, such as insurance, finance, etc., you'll find yourself competing against big players with deep pockets who've been in the game for decades.
So, if you're generating leads via paid traffic (Facebook, AdWords, etc.) on a "Cost Per Lead" basis or a retainer contract on behalf of a client, you need to narrow down to one smaller micro niche.
Let's define the term, and figure out why you need to find one.
What Is A Micro Niche?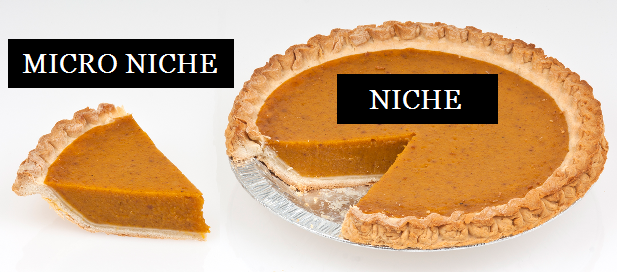 A micro niche, sub niche, or niche within a niche are all names for a smaller segment of a niche market.
Opting to devote your time to a smaller segment doesn't mean there's less money in it for you. Instead, it means there's still plenty of demand, but much less competition.
For example, if you opted to generate leads in the "insurance" sector, you'd soon find that insurance is a rather broad niche. But, if you break "insurance" down, you'd soon find plenty of industries that apply to the insurance sector.
Health insurance

Life insurance

Funeral insurance

Mortgage protection insurance

Car insurance
Etc., etc.
Do your research into these industries and see which one interests you the most. And, once you've chosen your industry, break it down again.
Opting for something like "health insurance" isn't enough – the field is still too broad. Dig a little deeper. For instance:
Health Insurance > Health Insurance UK > Private Health Insurance UK >

Private Health Insurance UK Self Employed
Here's another example:
Income Protection Insurance > Long Term Income Protection Insurance >

Long Term Income Protection Insurance for Over 60s
Seem pretty specific? You'll actually be far more successful if you drill down to a micro niche within a broader market.
Follow this pyramid guide as a template: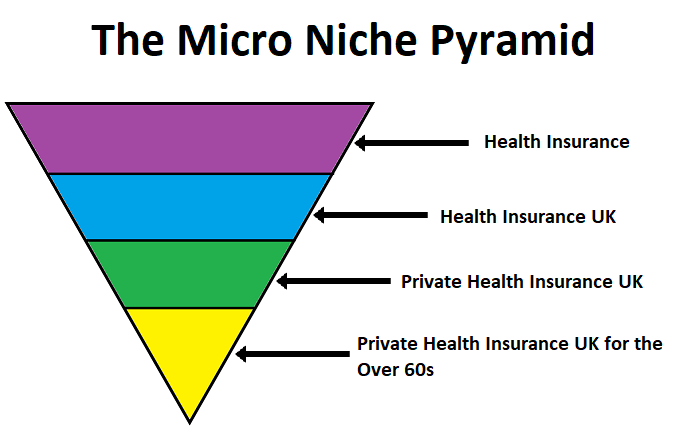 How Do I Find My Niche?
As a lead generator looking for clients, you should have already established what field you want to work in.
As you know, FlexxDigital works with clients in the insurance and finance sectors.
If you're just starting out and you haven't got that far yet, do some research on Google and see what the best-selling niches are online.
At this point, you want to keep your options broad. If you think you've found a niche with an "untapped market" it may be because the audience for that niche doesn't exist.
A better strategy is to tap into a thriving market, selling services that people are already buying.
The best way to tackle niche marketing is to think about the mindset of people who have a problem they need help with.
If someone wants to cover their family financially in times of difficulty, for example, they'll be looking up income protection insurance, health insurance, funeral plan insurance, life insurance, etc.
And, with something as broad as "insurance" there will always be another variation that will solve the problem millions of people search for every day.
Once you've settled on a general niche, look at your micro niche pyramid and go into the next layer. In the case of weight loss, that may be "weight loss for women".
Now, find clients working in that particular niche.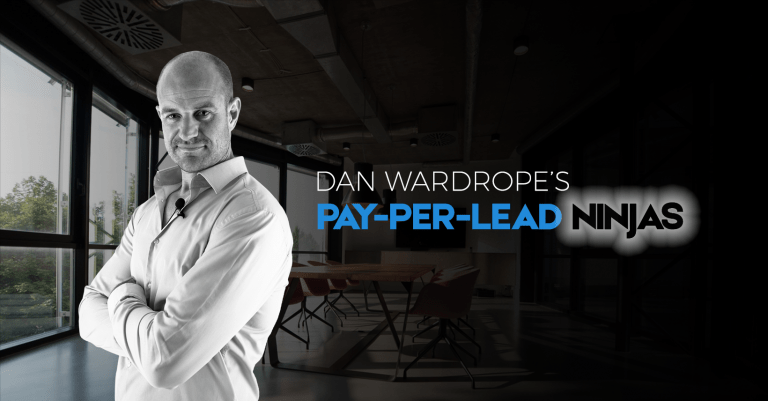 Advertising In Your Micro Niche
For those who haven't drilled down to a micro niche, their broad market choice is reflected in their overly broad advertising. As we know, the biggest mistake you can make in your ads is trying to appeal to everybody.
Advertising to a micro niche guarantees better quality leads and a lower cost per lead (CPL). Targeting on Facebook has come such a long way, it can now hone in on your ideal customer and start getting you results almost immediately.
And, because your ads, advertorials and landing pages are directly speaking to a specific audience, Facebook's algorithm is more likely to judge them as "meaningful content".
If you're struggling with finding a niche, I have a case study – a Gameplan is what I'm calling it. 
It's how a student of mine used my Gameplan to move from struggling to sell the hard retainer contracts to being able to onboard as many clients as he could.
How did he do this? 
Just by choosing a booming niche and changing his offer.
He was able to know that there were 10 other people after the call that wanted what he was offering – Performance Based Pay Per Lead Marketing.
Things changed so quickly for him. 
He's nearly at 100k a month now.